Sun-Dried Tomato Dressing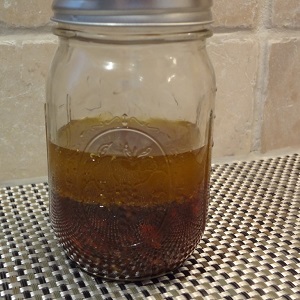 Delicious easy vinaigrette dressing. Why buy store bought dressings when homemade are so easy, delicious and healthier. Be sure to make ahead and low flavours to blend. Excellent on salads or use it in other recipes such as Salmon Baked with Tomatoes, Mushrooms and Spinach.
Ingredients
1/4 cup oil packed dun-dried tomatoes
2 tbsp balsamic vinegar
1-2 garlic cloves minced
1 tsp dried oregano
1/2 tsp sugar
¼ tsp black pepper
salt to season
1/3 cup extra-virgin olive oil
1/2 cup water
Instructions
Rinse sun-dried tomatoes and dry off
Finely chop sun-dried tomatoes and place in bowl
Add all ingredients EXCEPT olive oil
Mix well using a whisk
While whisking slowly add olive oil until well mixed
Place in a jar and refrigerate until ready to serve
Enjoy!