Apple Celery Salad with Hazelnuts and Dill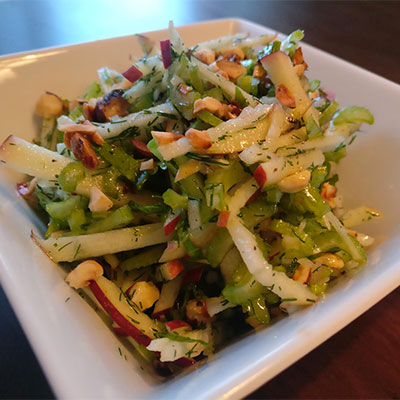 This recipes takes no time to make, mostly cutting your ingredients, mix and serve.
Ingredients
2 Celery sticks
1 Apple
1 Shallot
2 tablespoons Fresh dill
1/4 cup Olive oil
1 tablespoon Apple cider vinegar
1/2 teaspoon Dijon mustard
1/2 teaspoon Honey
1/2 cup Hazelnuts, chopped and toasted
Salt
Pepper
Instructions
Toast the hazelnuts and set aside to cool
Dice your shallot finely, put into your bowl and add the apple cider vinegar and let sit a few minutes as it will take the bite out of the shallots
Add the honey, dijon mustard and olive oil to the bown and mix.
Chop the celery fine and chop the dill and add to the bowl
Save the apple for last so it doesn't brown too much, cut into matchsticks and add to the salad bowl and toss.
Mix with half the hazelnuts and save the rest for garnishing
Rate for this recipe
You already rated for this recipe.