Potato & Leek Soup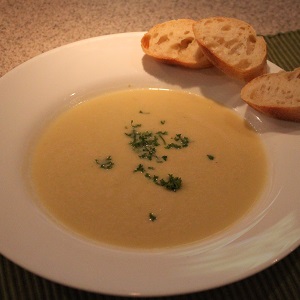 This rich and creamy soup is great for those cool days and evenings.  Easy and simple to prepare and served with your favorite bread.
Ingredients
2 tbsp butter
2 sliced leeks (use white only)
1 small onion - chopped
2 ½ cups chicken broth
1 raw sliced potato
½ cup cream
Salt & pepper to taste
Instructions
Melt butter in a large pot
Add onions and leeks and sauté until tender but not brown
Add broth, potato, salt and pepper and cook until potato is tender, about 25 minutes
Puree mixture in a food processor
Return mixture to pot and bring to boil
Stir in cream and heat
Serve
Rate for this recipe
You already rated for this recipe.