Thai Panang Curry with Chicken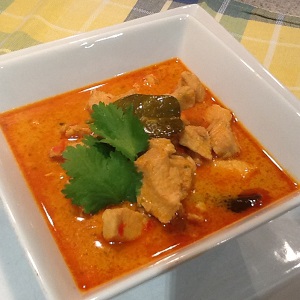 You and your guests will be delighted with this simple delicious Thai curry. The flavors of this dish come together so nicely it is restaurant quality
Ingredients
1 lb chicken, sliced large bite-size
5 Tbsp Oil
3 Kaffir lime leaves thinly sliced
16oz Light coconut milk
1 Tbsp Palm sugar (try not to substitute)
1 Tbsp Fish sauce
1-2 Red chillies finely chopped (optional)
Curry Paste
1 Tbsp Vegetable Oil
1 Tbsp Water
2 Tbsp Chilli powder (if using
1 Tsp Coriander powder
1 Tsp Cumin
1 Tsp Salt
1 ½-inch Ginger
1 Tbsp Cilantro stems
1 Lemon grass chopped very finely
2 Green onions
2 Garlic cloves, chopped
1 ½ Tbsp Peanuts
1 Tbsp Fish Sauce
Instructions
Blend all dry ingredients of the Panang Curry Spice Paste in a bowl and set aside
Using a small food processor (if available) add remaining paste ingredients and blend thoroughly
Add blended wet paste ingredients to the powders to create a paste
Using a wok or large frying pan heat oil
Add Kaffir lime leaves and cook for 30 seconds
Add Panang Curry Spice Paste and red chilli peppers and continue to fry until fragrant, about 2 minutes the reduce heat and continue to cook for an additional 1-2 minutes
Add chicken stirring for 2-3 minutes
Add coconut milk and continue to cook for a couple minutes
Add palm sugar and fish sauce stirring well.
Cover and reduce heat and simmer for 1 hour
Serve with your favorite rice such as Basmati
Enjoy!
Rate for this recipe
You already rated for this recipe.