Pasta with Salmon, Chilli & Lemon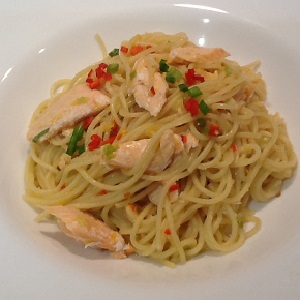 A quick and easy pasta dish that is light.  Using lemon and basic ingredients keeps this recipe fresh tasting.
Ingredients
240g pasta (spaghetti)
2 tbsp oilive oil
1-2 red chillies, deseed and finely chopped
150g salmon, cooked
1 lemon zest & juice
2 green onions chopped
Instructions
Cook salmon and set aside. Salmon can be baked or poached to your preference.
Cook pasta until just al dente.
In a large pan add oil and saute chilli for a few minutes
Separate salmon into small chunks and flakes
Just before straining pasta remove 1 cup of pasta water and set aside
Drain pasta and add to pan with chilli and oil
Toss pasta until coated well
Add salmon, lemon zest, juice of lemon, onions and continue to gently toss
If pasta appears to dry add some water used to cook pasta
Serve and enjoy!