Lemon Cheesecake with Passion Fruit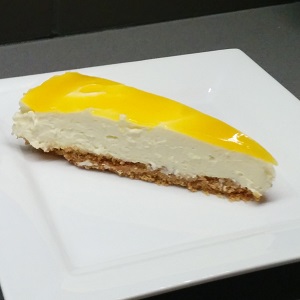 A rich and creamy non-bake lemony cheesecake topped with delicious passion fruit.   Quick and easy to prepare.
Ingredients
200g graham crackers, crushed
1/2 tsp cinnamon
2 tbsp sugar (used for the base)
400g cream cheese (room temperature)
2 lemons, zest
200g mascarpone cheese
100g sugar
184ml double cream
Passion Fruit Topping
8 Passion fruit, very ripe
3 tbsp water
2 tbsp sugar
2 sheets gelatine
Instructions
Graham Cracker Base:
In a bowl mix crushed graham crackers, cinnamon, 2 tablespoons of sugar
Add 125g butter (melted) and mix well
Pour mix into spring pan and spread mixture evenly
Press down firmly to create an even layer
Place in refrigerator to chill and set for at least 30 minutes
Cream Cheese Mixture:
Place the cream cheese, lemon zest, mascarpone cheese and 100g sugar in a bowl and mix using an electric mixer.
Using another bowl place the double cream and whisk until thickened
Once cream has thickened add cream cheese mixture and folding by hand to blend thoroughly
Remove base from refrigerator and pout the filling over the base and spread evenly
Return to refrigerator and let sit for at least 4 hours. If time permits allow to sit overnight to allow all flavours to infuse.
Passion Fruit Topping:
Soak gelatine sheets in water according to directions
Cut passion fruit in half and scoop out the passion fruit and placing into a sieve
Squeeze the passion fruit pulp through the sieve until all the juice is removed from the pulp
Set aside the seeds for later if desired
Using a small saucepan add passion fruit juice, water and 2 tbsp sugar and stir over low heat until sugar is dissolved
Remove from heat and allow to cool
If you would the appearance of the black seeds add some seeds to the topping. The seeds will be crunchy adding a different texture so if you prefer a simple smooth cheesecake best not to add seeds
Remove cheesecake from refrigerator and pour topping over the cheesecake to cover entire surface
Cover and return to refrigerator to allow topping to set
Rate for this recipe
You already rated for this recipe.