Garlic Soup Recipe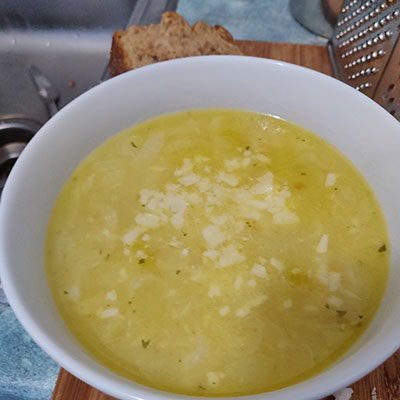 Ingredients
4 globes garlic
pinch salt
pinch pepper
2 tablespoons olive oil
2 tablespoons butter
1 yellow onion
1/4 cup parmesan cheese
Instructions
Instructions
Take 3 of the globes of garlic, separate them, keep the skins on but cut off one side. Put in a bowl and add the olive oil with salt and pepper and stir. Turn on the over to 350oF and add the garlic to tinfoil and seal the top. Bake for 45 minutes. When done take out, let them cool and when cool enough to touch, you can squeeze the garlic out of the skins and discard the skin.
Chop the onion and remove the skin of the garlic on the remaining globe
Head 2 tablespoons of butter in your pot and add the onion for a few minutes then the garlic that has the skin removed. After cooking for a few minutes until aromatic, add in the remaining garlic
Add 3 cups of vegetable or chicken broth to the pot and bring to a boil, then let it simmer for about 20-25 minutes
You can add cheese to the soup when serving and optionally add cream to the soup before turning off the heat.
Recipe tips and variations
You can choose to add in cooking cream to the recipe or without. You can also change up the cheese for gouda or something else that is a bit salty. This soup is great with bread. Also you can choose to skip blending the soup and leave it as it which gives it a bit of texture.
Rate for this recipe
You already rated for this recipe.