Chinese Salad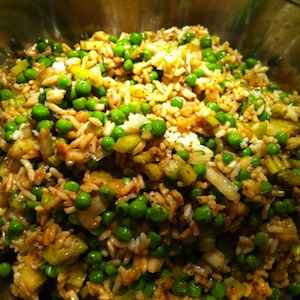 Ingredients
1 1/3 cups salted water
1 1/3 cups instant rice
1 10oz package of frozen peas
1 ½ cups chopped celery
¼ cup chopped onion
Dressing:
½ cups vegetable oil
1 TBSP Soya sauce
½ TBSP Sugar
1 teaspoon salt
1 teaspoon celery seed
2 teaspoon vinegar
3 teaspoon curry powder
½ teaspoon Accent (if available)
1 can of chow mien noodles (couple good handfuls if cans not available)
Instructions
Cook 1 1/3 cups instant rice in 1 1/3 cups salted water. When cooked place in a large salad bowl and add frozen peas, celery and chopped onion
Chill overnight (or 8 hours) before serving
Prepare dressing and place in container/jar and also chill overnight (or 8 hours)
Just before serving add dressing to rice and mix well. Add one can of chow mien noodles sprinkled on top and serve.
Tips
This salad is always a hit and has been for years. It is great as a leftover and even could be warmed in a frying pan as a leftover the following day.