Chicken Skewers with Mustard, Thyme and Ginger Sauce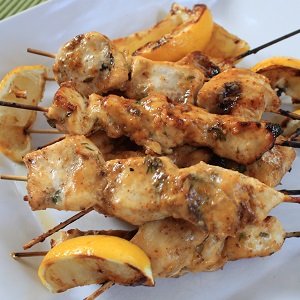 Some great flavor combinations with thyme and lemon combined with the mustard and ginger sauce.  A nice new way to prepare chicken and enjoy with friends at your next BBQ.
Ingredients
2 boneless chicken breasts, cubed ready to skewer
1 tbsp fresh thyme
2 tbsp lemon juice (fresh)
4 tbsp canola oil
Mustard & Ginger Sauce
1 tbsp brown sugar
4 tbsp Dijon mustard
1 tsp garlic, minced
1 1/2 tbsp ginger, freshly grated
1 tbsp soy sauce
1 tbsp lime juice (fresh)
Instructions
Cube chicken in preparation for skewers
In a glass or plastic bowl combine lemon juice, thyme and canola oil
Add chicken mixing well
Cover and allow to marinate about 3 hours in refrigerator
Prepare mustard & ginger sauce by combining all sauce ingredients in a small bowl
Cover and place in refrigerator and allow flavors to blend
Once chicken has marinated skewer chicken (about 3-4 pieces) on wooded skewers that have previously soaked in water to minimize wooden skewers from burning
Place on BBQ grill on medium heat periodically brushing with mustard & ginger sauce (keep some sauce for serving)
Continue to grill until nicely browned and cooked through. Careful not to over cook chicken as it will become dry
Serve on a platter along with some grilled lemon wedges with remaining mustard & ginger sauce brushed or drizzled over chicken skewers
Enjoy!
Tips
This recipe takes only minutes to prepare however you need to allow time for marinating. Great recipe to prepare ahead of time with little effort.