Baked Sweet and Spicy Chicken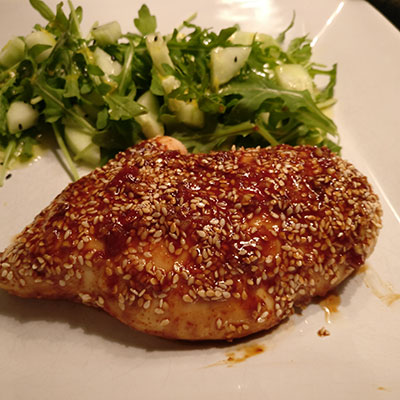 5 minutes prep time, bake for 30 minutes and done. 
Ingredients
2 Chicken Breasts
2 tablespoons Honey
2 tablespoons Sriracha
3 tablespoons Soy Sauce
1/4 teaspoon Ground ginger
2 Garlic cloves, minced garlic
2 tablespoons Toasted Sesame Seeds
Instructions
Preheat over to 350 degrees farenheit
Mix all ingredients in a jar or bowl
Pour over chicken then coat with sesame seeds. Be sure to save some sauce to pour over at the end
Bake for 25 to 30 minutes in the over at 350 oF or until chicken is done.
Tips
You can make more of the sauce to coat the chicken with including after the chicken is fully baked to make it a bit juicier with more flavour from the sauce.