Baked Salmon with Capers and Dijon Mustard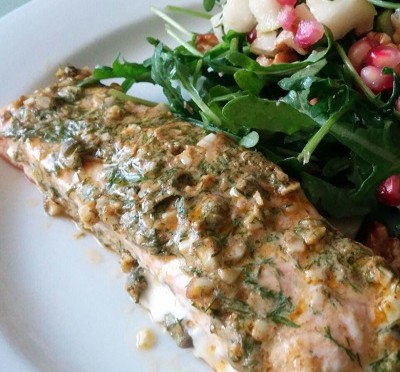 You will be pleasantly amazed with this delicious baked salmon recipe.  The taste of fresh dill complimented by Dijon mustard and a little "kick" of cayenne pepper will please everyone.  A great variation to prepare salmon.
Ingredients
2 Salmon fillets
3-4 tsp Fresh dill
1/4 - 1/2 tsp Cayenne pepper
1 tsp Capers
2 Garlic cloves, minced
1 tbsp Olive oil
1 tbsp Dijon mustard
Instructions
Pre-heat oven to 450F
In a bowl, add fresh dill, cayenne pepper, capers, garlic cloves, olive oil and Dijon mustard
Mix well while gently pressing the capers
Spray tin foil with oil to prevent sticking
Place salmon fillets on foil
Spread mixture evenly on salmon fillets using a spoon
Wrap salmon with foil securely
Place on oven pan and bake for approximately 15 minutes until done
Serve and enjoy!
Tips
If you don't have fresh dill you can substitute with 1 tsp of dried dill.
Rate for this recipe
You already rated for this recipe.