Arugula Salad with Pomegranate pear and feta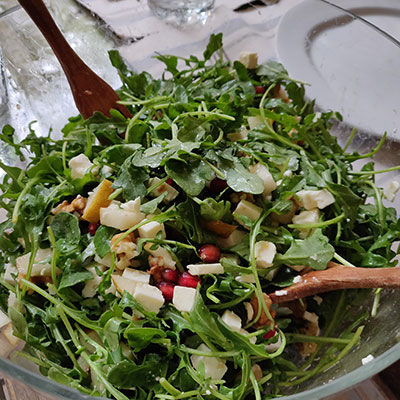 This recipe might barely take 10 minutes to prepare, if not less.
Ingredients
5 oz arugula
2 clementines
1 pear
2 oz feta cheese
1 pomegranate
1/2 cup chopped walnuts
Instructions
Chop the pear into small pieces
Chop the walnuts into small bite sized pieces and you can toast them
You can break your feta into small pieces or cut into small squares
Get the seeds out of the pomegrante
Mix all the ingredients together except for the clementines
Cut the clementines in half and squeeze the juice in the salad, mix and serve
Tips
You can substitute the clementines for tangerines. Other ingredients you can swap out would be goats cheese for feta, peach instead of pear and if you don't have pomegranate you could swap for something that is sweet but a bit sour like grapes.
Rate for this recipe
You already rated for this recipe.