Pumpkin Cheesecake with Gingersnap Crust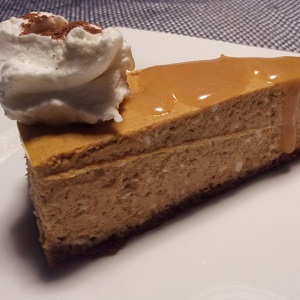 Crust
1 ½ cups Ground gingersnap crumbs
¼ cup Sugar
5 tbsp Unsalted butter, melted
Pumpkin Filling
1 1/5 oz can Pumpkin (pure)
1 1/3 cups Sugar
1 tsp Ground cinnamon
½ tsp Ground ginger
¼ tsp Ground nutmeg
¼ tsp Ground cloves
1/2 tsp Salt
1 cup Heavy cream (cold)
24 oz Cream cheese, room temperature
5 Larger eggs, room temperature
Instructions
Crust
Preheat oven to 325F
Wrap a 9-inch springform pan with heavy duty aluminum foil. Heavy duty foil will do a better job of preventing water seeping into the pan
Spray the pan with non-stick cooking spray
To make the crust combine gingersnaps and sugar in a food processer and mix until crumbs are fine.
Add melted butter to the crumbs
Continue to mix in food processor until crumbs are moistened
Place the crumbs in the pan and press them flat into the bottom
Bake crust for 15 minutes then let cool
For the filling
Filling
Bring 16 cups of water to a boil
In a saucepan mix pumpkin, sugar, cinnamon, ginger, cloves, nutmeg and salt
Over medium heat bring the mixture to a simmer stirring constantly until it bubbles
Reduce heat and continue to simmer always stirring for 5 minutes until thick and shiny
Pour pumpkin mixture into a mixing bowl
Using a blender add the cold cream and blend
Add cream cheese and continue to blend until smooth
Add eggs to the mixture and blend well
Using a large roasting pan, place the springform pan with prepared crust in a large roasting pan
Pour the pumpkin mixture into the pan over the crust
Pour enough boiling water into the roasting pan until the water comes halfway up the pan
Place in oven and bake for approximately 1 ½ hour until the cake is set and firm
Carefully remove the roasting pan from the oven and sit on a wire rack
Using a knife gently loosen the cake from the edge of the pan
Cool until the water is just warm, approximately 45 minutes
Remove springform pan from water and remove foil and set on a wire rack to cool at room temperature until barely warm for about 3 hours
Cover with plastic wrap and refrigerate until chilled. Best if chilled at least 4 hours or even overnight.
Tips
To serve, let the cheesecake stand at room temperature for about 30 minutes, then cut it into wedges. Serve with room temperature homemade caramel sauce drizzled over each piece of cheesecake and sweetened whipped cream if desired.