Lemongrass Panna Cotta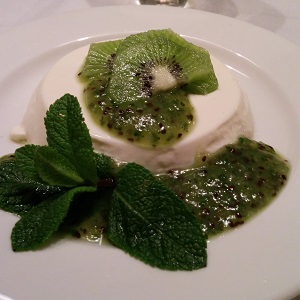 A delicious, light and refreshing dessert that leaves everyone wanting more.  An excellent dessert following a heavy or spicy meal.  Picture shown is with Kiwi and Mint sauce.
Ingredients - Panna Cotta
2 lemongrass
3 cups half and half cream
3 tsp gelatin
6 tbsp sugar
1 1/2 whipping cream
Ingredients - Kiwi & Mint Sauce
6 Kiwi, peeled
6 sprigs mint leaves
2 tbsp sugar
Instructions
Panna Cotta:
Cut lemongrass and crush lemongrass to allow flavors to absorb into cream
Using a saucepan pour in half and half cream and lemongrass
Add gelatin and allow to sit for a few minutes so that the lemongrass and gelatin soften
Add sugar and gently heat (medium) until sugar and gelatin are dissolved
Remove from heat and set aside for 10 minutes
Strain mixture using a sieve to remove the lemongrass and undissolved gelatin
Using eight small bowls lightly oil (best to spray) them with canola or vegetable oil
Pour lemongrass mixture into individual bowls and allow to set overnight
To serve panna cotta place small bowls of panna cotta in a pan of warm/hot water for a few seconds
Gently run a knife around the edge
Flip bowl onto serving plate to allow panna cotta to drop from bowls and gently remove bowl
Spoon kiwi & mint sauce onto panna cotta and garnish with slices of kiwi and mint
Enjoy!
Kiwi & Mint Sauce:
Using a blender, blend kiwi, mint leaves and sugar until smooth
Chill until ready to serve