Thin Crust Pizza Dough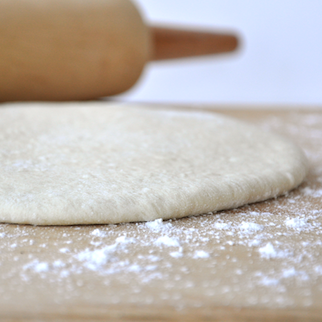 A simple thin crust pizza dough.  You will never need to buy from the store again.
Ingredients
3/4 cup warm water (lukewarm)
1 tsp instant yeast (bread machine yeast)
10 oz all-purpose flour
1 1/2 tsp salt
Instructions
Combine the water and yeast in a mixing bowl, and stir to dissolve the yeast.
Add the flour and salt to the bowl and mix until you have a soft dough.
Place the dough out onto a clean work surface along with any loose flour
Knead the dough for approximately 5 minutes until all the flour is blended well. The dough should be smooth and elastic and still feel moist and slightly tacky.
Place in a bowl and cover while you prepare toppings. See tip below.
Divide the pizza dough in half and place on parchment paper.
Using your hand or a baking roller work the dough on the parchment paper to create two 10" round pizzas
Add your favourite toppings
Transfer the pizzas to the preheated baking stone
Bake for 5 minutes the gently slide parchment paper away from under the pizza allowing pizza to cook remaining time directly on stone.
Bake an additional 5 minutes or until the crust is brown and toppings bubbling.
Enjoy!
Tips
Let dough rise for about 1 ½ hours if time permits. Dough will have doubled in size.