Asparagus Pesto Pasta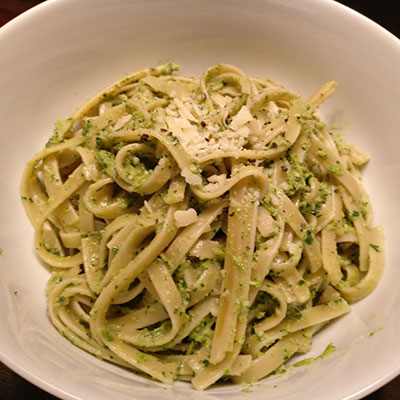 An easy pesto to create and this pasta dish will impress anyone you serve it to.
Ingredients
1/2 lb Fettuccine pasta
1/2 lb Asparagus
1/2 cup Fresh Mint
1 1/2 cup Spinach
1 tsp Lemon zest
1/4 cup Lemon Juice (or juice of 1 lemon)
1/4 cup Walnuts
1/4 cup Olive oil
1/4 tsp Salt
1 cup Parmesan cheese
1 Garlic clove
Instructions
Boil a pot of water and boil the asparagus for 3 to 5 minutes. Be sure to cut off the rough ends and discard. While this is boiling you can prepare an ice bath to cool the asparagus down immediately after cooking.
Add salt and bring the water back to a boil and cook the fettuccine. Be sure to save half a cup of reserve water before the pasta is done.
Add the ingredients to a food processor: asparagus, mint, spinach, garlic, lemon zest, lemon juice, parmesan cheese, salt and walnuts. Blend until most of the ingredients turn into a paste but you can slowly add in the olive oil.
Strain the pasta, add back to the pot with the pesto and stir. Add as much of the reserve water enough to make the pasta more creamy than dry.
Serve and you can top with a bit more parmesan.
Tips
You can vary the ingredients to your liking whether adding more or less mint and more olive oil if you feel the paste is too dry. You can also prepare just the pesto and jar it up to make pasta for another day or use the pesto for another recipe or to put on toast.