Herbed Ricotta Ravioli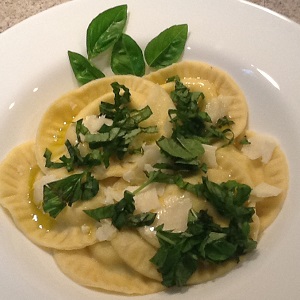 This delicious fresh and light Herbed Ricotta Ravioli was very simple to make.  Always tasting better with homemade fresh pasta (but you can also by store bought if you are short of time or don't have a pasta machine).
Ingredients
3/4 cup ricotta cheese
1/3 cup parmesan cheese, freshly grated
3 tbsp basil, finely chopped
1 egg
1/2 - 3/4 tsp lemon rind
1/4 tsp black pepper
Sauce / Garnish
1/4 cup extra-virgin olive oil
4 garlic cloves, minced
1/4 cup basil, finely chopped
1/4 cup parmesan cheese, freshly grated
Instructions
In a bowl combine ricotta cheese, parmesan cheese, egg, basil, lemon rind and black pepper
Blend well until all ingredients are will integrated
Using sheets of pasta measure/mark the size of ravioli that you will be preparing and cutting
Spoon approximately 1 tsp of cheese mixture in center of your marked ravioli pasta sheets
Gently brush some water around the edges that will be cut
Place the second sheet of pasta over the sheet with the cheese mixture and shape firmly to remove any excess air
Either cut using a knife (for square ravioli) or a round object with a this rim to cut through the pasta.
Remove excess pasta dough and gently seal the edges with either your fingers or a fork.
Repeat until you have used all mixture to approximately 18-20 raviolis
Prepare garlic oil by pouring 1/4 olive oil in a small pan along with garlic and heat over low heat. Careful not to burn. Allow oil/garlic to saute while you cook ravioli.
Gently add to boiling water and cook for approximately 3 minutes (or according to the pasta dough package instructions)
Once cooked carefully remove from water and prepare to plate
Drizzle 2 tbsp of garlic oil over the ravioli and garnish with parmesan cheese and fresh basil
Enjoy!
Tips