Welsh Cakes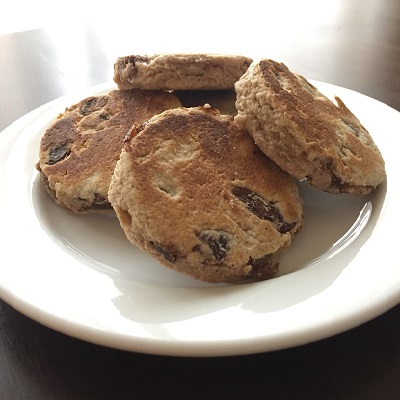 Traditional Welsh Cakes handed down through the family for many generations.  Welsh Cakes are cooked on the stove using a heavy skillet.  They are unique and are somewhat between a scone and a cookie.
Ingredients
3 cups Flour
1/2 cup Butter
1 cup Sugar
2 tbsp Mixed Spice or Nutmeg
2 Eggs
2 cups Sultana raisins
3 tsp Baking powder
2-4 tbsp Water
Instructions
Combine flour, sugar, nutmeg, baking powder and sultanas
Add eggs and butter and mix well using your hands
Add 2 tbsp of water to create a dough. If required add a little more water
Roll out dough to approximately 1/4" thickness
Using a cutter cut dough to create rounds
Heat a heavy skillet on low
Place rounds on skillet and bake for 4-5 minutes each side. Careful that skillet is not too hot or the Welsh Cakes will burn on the outside and not cook on the inside.
Serve warm and enjoy! They are still amazing cold.
Rate for this recipe
You already rated for this recipe.