Cajun Shrimp with Pineapple Basmati Rice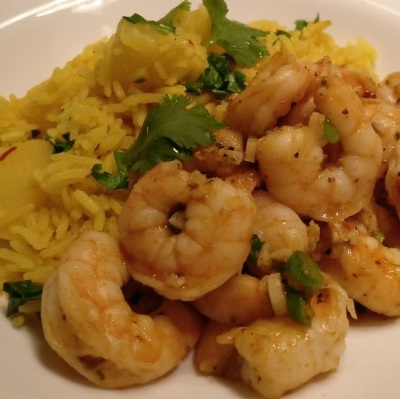 Simple, easy and fast recipe for a delicious dinner option.
Rice Ingredients
1 cup Water
1 cup Pineapple chunks (from can)
1/2 cup Pineapple juice (from pineapple chunks can)
1 tbsp Butter
1/2 tsp Crush red peppers
1 tsp Curry powder
1/2 tsp Garlic powder
1/2 tsp Onion powder
1/2 tsp Salt
1 tbsp Maple syrup (real)
1 tbsp Lime juice
1 cup Basmati rice
Shrimp Ingredients
2 cups Shrimp, raw, peeled and deveined
1 tbsp Butter
2 Garlic cloves, minced or finely chopped
1 1/4 tsp Cajun spice (dry)
1-2 Green onions, chopped
2-3 tbsp Cilantro, chopped
Instructions
Add all rice ingredients except rice to a medium sized saucepan and stir
Bring mixture to a boil and stir in rice
Cover saucepan and simmer for 20 minutes until rice is cooked and water adsorbed
Remove from heat and let sit for approximaately 10 minutes while shrimp is prepared
Over medium heat melt butter in a large pan
Add garlic and saute for 1-2 minutes
Add shrimp and cajun spice
Cook shrimp for 2-3 minutes being careful not to overcook
Add green onions and toss
Serve rice with shrimp garnished with cilantro
Enjoy!
Rate for this recipe
You already rated for this recipe.