Lemon Biscotti with Pine Nuts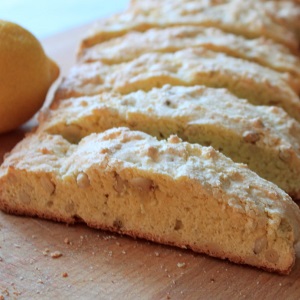 Delicious biscotti made with refreshing fresh lemon and the soft crunch of pine nuts.  Who knew biscotti was so easy to make?
Ingredients
1 3/4 cups flour
1/2 tsp baking powder
1/4 tsp salt
1 cup sugar
2 eggs
+1 egg yolk
1 tsp vanilla (or seeds from fresh vanilla pod)
1 tbsp fresh lemon juice
1 lemon, zested (2 solid teaspoons)
1/2 cup pine nuts (or chopped almonds)
Instructions
Preheat oven to 350F
In a medium bowl combine flour, baking powder and salt
Using a larger bowl add eggs, additional egg yolk and sugar and whisk until creamy
Add vanilla, lemon juice and lemon zest and continue to whisk a few more minutes
Gradually add dry ingredients and pine nuts and mix in well
Line a baking sheet with parchment paper
Using flour on your hands pour mixture onto line baking sheet and form a long strip of dough that is approximately 12'' long by 3"-4" wide
Place in oven on middle rack and bake for about 25 minutes or until golden brown and starting to dry
Remove from oven
Reduce oven to 275F
After 5 minutes (biscotti is cool to touch), cut the biscotti across every 1"
Place biscottis cut side down on the baking sheet
Place biscottis back in the oven and continue to back another 15 minutes until dry and toasted
Remove from oven and allow to cool
Enjoy with your favourite coffee!
Tips
For smaller individual sizes measure out 1 tablespoon portions and flatten onto the parchment paper. If baking individual portions the second baking is not required.