Arugula Walnut Salad with Goat Cheese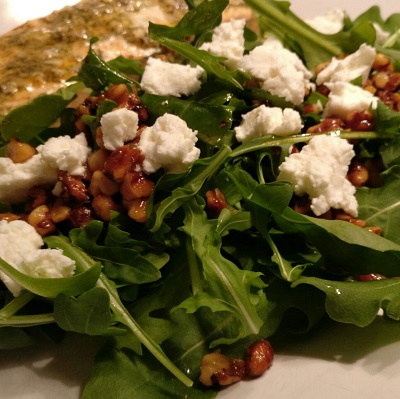 Delicious simple salad made with arugula, walnuts and goat cheese.
Ingredients
5 oz Arugula
2 tbsp Olive oil, extra-virgin
1/3 cup Walnut pieces
1 tsp Fresh Thyme
1/2 tsp Lemon zest
1 tsp Lemon juice, fresh
Salt
Pepper
2 oz Goat cheese, crumbled
Instructions
In a small skillet add oilive oil, walnuts pieces and thyme.
Heat over low heat for 3-5 minutes. Careful not to burn mixture.
Remove from heat to allow to cool and add lemon juice, lemon zest, salt and pepper and set aside.
Create a bed of arugula on plates or serving dish.
Add walnut mixture over arugula.
Sprinkle crumbled goat cheese over salad.
Serve and enjoy!
Rate for this recipe
You already rated for this recipe.